Trina Solar again ranked in top AAA category in PV ModuleTech Bankability Ratings
2023.07.25
Trina Solar has been ranked in the top AAA category for the fifth consecutive quarter in PV Tech's PV ModuleTech Bankability Ratings for Q2'2023, underlining the company's leadership status in high reliability, advanced technology, shipments and sound financial performance.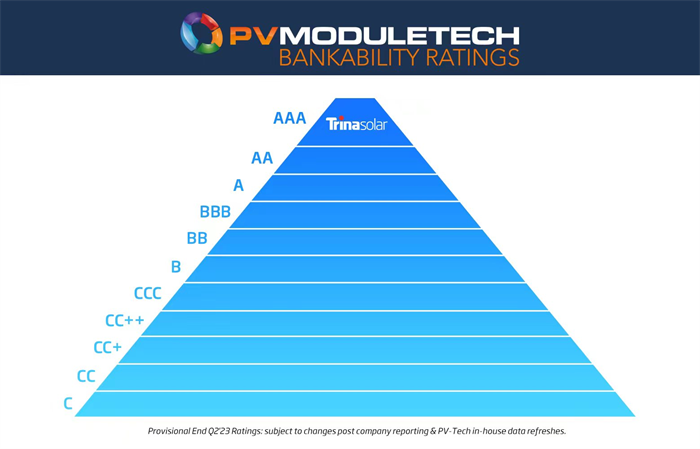 Trina has now been recognized as an 'Overall High Achiever' by RETC for three consecutive years and ranked 'Top Performer' for nine years in a row by PVEL. The company's Vertex modules have also recently been certified by TÜV Rheinland for their performance in harsh marine environments, while its 700W series modules passing the RETC thresher test.
Trina Solar invests heavily in technological innovation. Combining 210mm technology and n-type i-TOPCon Advanced technology, mass-produced modules power output is forecast to exceed 700W next year.
The company's cumulative shipments of 210mm modules have reached 65GW+, giving it top ranking in 210mm module shipments worldwide. Customers have continued to demonstrate their trust in Trina Solar with their orders, recent ones including an agreement to supply 800MW Vertex modules to Aquila Clean Energy EMEA.
Trina Solar spares no effort in providing worry-free delivery of n-type modules. By the end of this year, its module production capacity is forecast to reach 95GW and its cell production capacity 75GW, with 40GW dedicated to n-type cells.
In July Trina Solar, with eight other module manufacturers, reached a consensus on standardizing dimensions, delivering high customer value, moving the industry a step further toward adopting 210mm technology.
Trina Solar is committed to delivering low-carbon products to its customers. Its Yiwu factory in China's Zhejiang province has become the PV industry's first to be officially certified as 'zero carbon'.