Trina Solar Announces Mass Production of Vertex N 700W+ Series Modules, Leading Industry into PV 7.0 EraE
2023.08.29
Trina Solar, a leading global PV and smart energy total solution provider, announced its mass production of Vertex N 700W+ series modules, with module efficiency reaching 22.5% on August 18. It marks Trina Solar as the first module maker to mass produce TOPCon modules with power exceeding 700W. According to Trina Solar, the industrialization capability of 210mm n-type modules will be comprehensively improved, and Vertex N modules will be continuously upgraded with 10-15W increase in power output in 2024.
The Vertex N 700W+ series modules adopt n-type i-TOPCon Advanced technology that Trina Solar unveiled in May. The first n-type i-TOPCon cells rolled off the production line in Qinghai province in early August. Cell efficiency in mass production has now reached 25.8%. By the end of this year, Trina Solar's cell capacity will reach 75GW, including 40GW of n-type cells, all of which are equipped with n-type i-TOPCon Advanced technology.
Vertex N 700W+ series modules have passed a comprehensive range of tests by RETC. A UL Panfile test report found Trina Solar Vertex N modules perform better in terms of temperature coefficient and low-light environments compared with p-type modules. Simulations in three typical cities show that annual power generation of Vertex N modules can be increased by up to 3.96% compared with that of p-type modules.
Vertex N modules are also acclaimed by end customers. As a result, Trina Solar has accumulated rich delivery experience in large utility power plants. A photovoltaic power plant project of the seawater desalination plant in Jubail, Saudi Arabia, was recently put into operation, Vertex N 700W+ series modules being used there. A 500MW photovoltaic power station project being built in Xinghai county, Qinghai province, also uses Vertex N 700W+ series modules.
Trina Solar is keen for industrial chain partners to work together to accelerate mass production of n-type technology and high power modules to benefit end users. In the n-type era, Trina Solar is leading the industry with n-type i-TOPCon Advanced technology, the all-round upgraded scenario-based Vertex N portfolio and integrated solutions.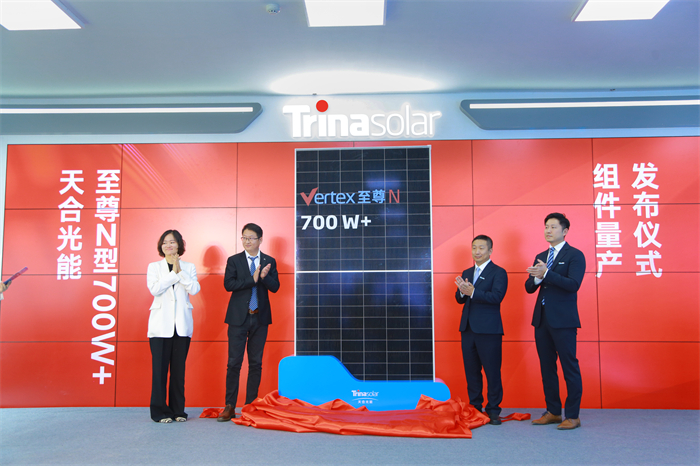 Trina Solar unveils Vertex N 700W+ series module