TV Rheinland and CPVT prove Trina Solar Vertex 600W+ modules' higher energy yield 
2022.06.19
TÜV Rheinland and CPVT have reported recently that the power generation performance of 600W+ modules is superior to that of other modules, with the latest test results of at least 2% higher than reference modules in Germany. Experts from TÜV Rheinland, CPVT and Trina Solar looked at the reasons for 210 Vertex's high energy yield.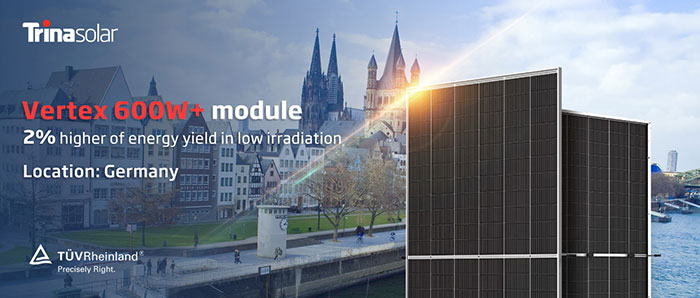 TÜV Rheinland: larger 210 cell and novel design support higher energy yield
Dr Christos Monokroussos, Global Head of Solar, TÜV Rheinland, said there are many reasons for this.
First, they use larger 210 cells, fitting more active per unit areas of photovoltaic power.
Second, they use innovative connection patterns such as multi-busbar and shingled designs that can be used to reduce series resistance, and have higher resistance to shadowing.
Third, these module types in general have superior temperature behavior, which refers to temperature coefficient. TÜV Rheinland found that it is possible to actually optimize the temperature coefficient performance of Vertex 600W+ modules, which means higher power generation performance under same temperature.
Fourth, they use broader spectral response, which leads to more photons being absorbed. They use novel passivation technologies that can produce superior low irradiance performance, as well as advanced light trapping schemes, which results in a higher portion of light being absorbed from oblique angles.
Talking about the development of module technology in future, Dr Christos mentioned the n-type modules Trina Solar are developing, are more resistant to light in reducing degradation, and naturally resistant to LID and LeTID.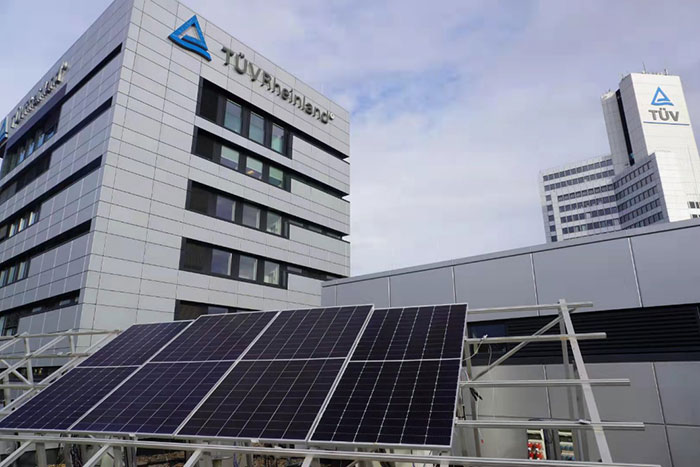 CPVT: Considering different albedo for Vertex's higher performance
Dr Yun Min, R&D Department Manager, CPVT (China National Testing Institution for Photovoltaic Products), presented CPVT's analysis of Vertex modules' generation capacity. Data from outdoor test (April 2021 to February 2022) conducted by CPVT in Yinchuan, China, shows that the energy yield of Vertex modules is higher than that of M10 540W modules by up to 1.7%.
Albedo of the testing area in Yinchuan is only about 15% because the ground type is sand and rock, Dr Yun said. When the power plant is installed on roofs, albedo is about 20-25%, and the power generation of 210 Vertex modules would be significantly higher than traditional M10 modules, and 210 bifacial modules in particular could perform even better.
600W+ modules' systematic advantages prop up superior performance
Franck Zhang, head of global product strategy and marketing, Trina Solar, said Trina Solar has developed Vertex 600W+ modules based on 210mm silicon wafer, innovative design of low-voltage and high-string-power, which first leads to reduced power loss ratio and outstanding low irradiation performance. Second, 600W+ modules have a stable working temperature. Third, they demonstrate stronger anti-shading ability, and power loss caused by shadow occlusion under the same shielding area is smaller than is the case with traditional M10 540W modules. These are the systematic foundations for the modules' higher performance.
Trina Solar is the first module maker to diversify layout design based on large 210mm wafers and adopt various other advanced technologies, paving the way for high-power modules in system integration applications. 600W+ modules, with highest power, optimized LCOE and system value, have been well recognized by customers and third parties worldwide.