TrinaTracker Completed the Delivery of Trackers for Gao'an 30MW Fishery-solar Plant
2022.03.31
Recently, TrinaTracker completed the delivery of the tracker system for the 30MW fishery-solar plant in Gao'an. The project is located in Xiangfu Town, Gao'an City, Yichun City, Jiangxi Province. Developed and constructed by Sungrow, it is a fishery-solar integrated plant built on a local reservoir. The project used the most advanced 210mm bifacial modules, and TrinaTracker provided the Vanguard 2P trackers for the project.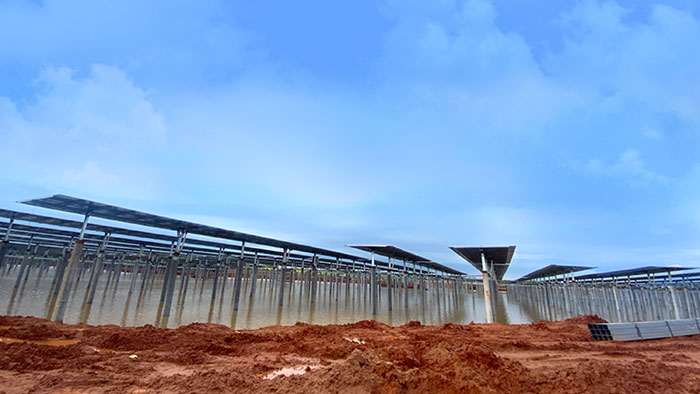 According to the calculation, energy yield can be increased by 10% with a tracker system compared with fixed structure. Meanwhile, Vanguard 2P can effectively reduce the quantity of piles, facilitate easy construction and engineering, which in turn will reduce the Capex of a solar project.
Different from PV commodities like modules, inverters, the tracker system has strong engineering properties. A solar tracker system needs to be equipped with hundreds of components, and the design should vary from one power station to another. Therefore, the delivery efficiency is crucial to the project's progress. Sungrow highly praised the delivery efficiency of TrinaTracker and the on-site supervision, which contributed a lot to the high-efficient construction of the project.
Sungrow has advanced solutions for PV plant scenarios. As for the fishery-solar plant, Sungrow has has been in the leading positions and has been widely recognized and praised in utilization rate, scientific design, reliability, and safety.
Due to the diversity of product lines, TrinaTracker has diversified products for different scenarios. The excellent pre-sales, sales, and after-sales system and whole life cycle quality management make TrinaTracker the preferred partner of Sungrow for tracking technology. At the same time, TrinaTracker also cooperates with Sungrow to optimize power station solutions through professional research of intelligent systems and jointly promotes the development of PV power stations systems to the 2.0 era.
Today, TrinaTracker has provided over 550MW trackers to Sungrow. Sungrow spoke highly of TrinaTracker, "TrinaSolar has brought innovation and progress to the industry multiple times with its pioneering and innovative spirit. Based on the acquisition of advanced tracker technology from Europe in 2018, TrinaTracker has continued to make technical upgrades and brought China's solar tracker technology to a higher level. Over the past four years, we have seen their continuous efforts in product development and quality control and great progress in product reliability. We are very pleased to work with TrinaTracker to build more high-quality, highly reliable, high-tech solar tracker projects."