19/01/25
Business of Solar,Trina Success
Trina Solar Asia Pacific had a milestone year in 2018, launching TrinaPro and Trinahome as well as working on several high-profile projects in the commercial, industrial and utility-scale sectors.

Trinahome, the complete solar energy system for residential and small-to-medium enterprise (SME) usage, was launched in India, Australia, Malaysia, Sri Lanka and the Philippines, giving customers the option to install safe, reliable and cost-effective solar systems on rooftops.

Last year also saw us strengthening partnerships in Thailand, where we already manufacture solar components. The company partnered with Charoen Pokphand (CP) Engineering, the engineering arm of Thailand's largest conglomerate, CP Group, to promote solar systems for commercial and industrial use.

We also had a big year working on utility projects in the region. In 2018, we built Indonesia's first utility-scale solar systems. One was in Likupang, a district in northern Sulawesi, and three were built on the island of Lombok.

The four projects—with a combined capacity of 42MW—are helping the country in its first steps towards clean energy.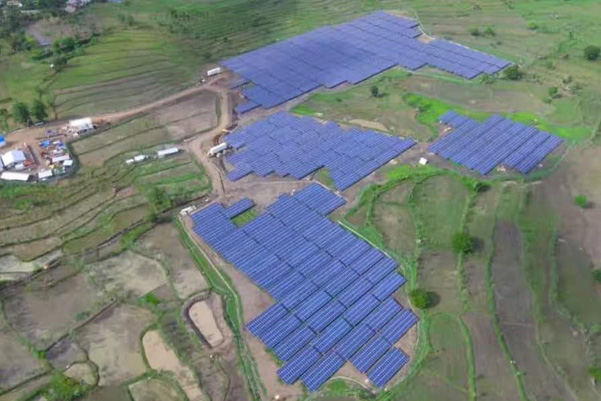 (Photo: Likupang Project, Indonesia)

Another one of our projects, the 129MW Clare Solar Farm in Queensland, Australia came online in May. It is the largest solar farm in Queensland.

Our solar installation there is particularly efficient as it uses integrated single-axis solar trackers. Having solar panels track the movement of the sun throughout the day potentially increases electricity output by as much as 25-35%.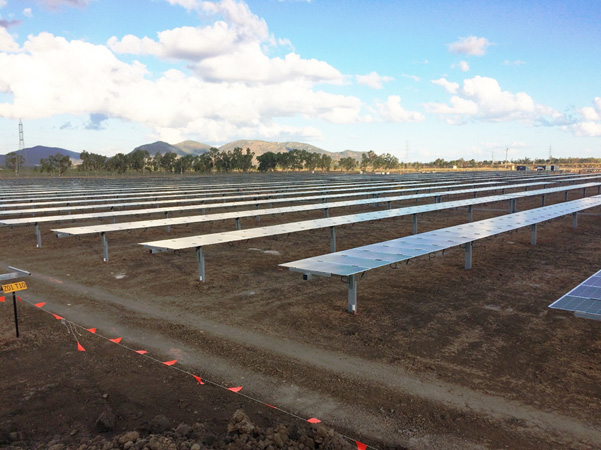 (Photo: Clare Solar Farm, Australia)

TrinaPro integrates state-of-the-art solar trackers from Nclave, the world-leading Spanish manufacturer that Trina Solar acquired in 2018.

The global launch of TrinaPro was in March 2018 and marked a strategic step in Trina Solar's transformation into a renewable energy solutions provider that works in concert with the internet of things (IoT) to drive greater efficiency.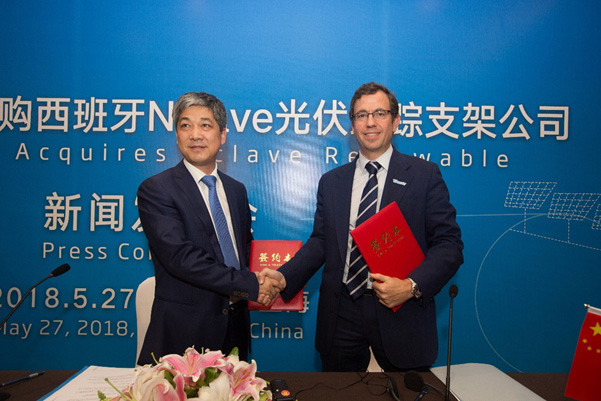 (Photo: Rong Fang Yin, Executive Vice President at Trina Solar, and Jose Ramón Fernández, CEO of Nclave)

But module development is still the heart of Trina Solar's business and this is where we continue strengthening our world-leading position. Trina Solar's State Key Laboratory of PV Science and Technology (PVST) last year set a new record of 25.04% total area efficiency for a large area n-type mono-crystalline silicon Interdigitated Back Contact (IBC) solar cell.
Trina Solar has also been awarded 'Top Performer' among global module manufacturers for the fourth year in a row, since 2014, by DNV GL, the world's largest classification society. Trina Solar was also rated 'Top Bankable Module Supplier' for the third-year in a row by Bloomberg New Energy Finance.
As always, we never rest on our laurels. Trina Solar Asia Pacific looks forward to another exciting year in 2019.
Smart Energy Solutions
delivered straight to your inbox