Trina Solar defines the aesthetic black product by high tech, delivering new Vertex S modules globally
2022.11.01
Trina Solar's Vertex S Aesthetic Module, an upgraded product highly anticipated by global customers, has arrived in Europe, Australia, Japan and other markets recently. It is the first solar PV module to win the Red Dot Award and is turning heads because of its efficient and reliable performance and an outstanding design and visual appearance, making it a favorite among distributed solar rooftops in global markets.
Vertex S Aesthetic Module, a ground-breaking innovation, defines the category of aesthetic black solar modules through all-around top and precise technology, including cells, bus bars, back sheets, frames, glass, modules, and packaging, delivery, unpacking, and installation in rooftop scenarios. The high-standard design is aesthetically appealing in every detail, aiming to provide customers with an enjoyable experience of high technology and aesthetics that co-exist in harmony.
Trina Solar, keenly aware of customer demand for products both technologically sophisticated and aesthetically appealing, has become one of the first leading companies in the industry to develop and launch an aesthetic black PV module.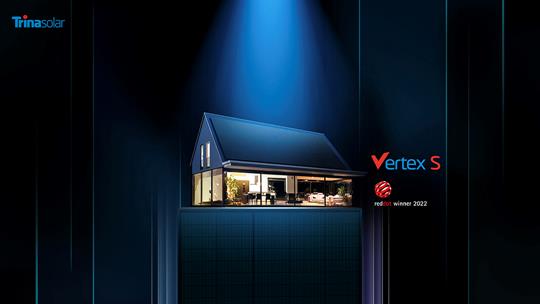 Define Aesthetic Module by three dimensions
1. Black solar cell defines a rigorous aesthetic principle
The Vertex S Aesthetic Module is equipped with selected cells strictly following the single, rigorous principle that all cells should be black and each of them should be almost equally black, offering both satisfactory cell efficiency and an ultimately aesthetic look.
Trina Solar's technical team is committed to innovatively upgrading film-forming technologies, improving the cell appearance graphic processing capabilities through the rigorous automated visual inspection system vision algorithm solutions. In the production process the cells are subject to over three times automated visual selection, to achieve consistency in color and free of any flaw.
2. Aesthetic black module e
The Vertex S Aesthetic Module delivers a humanistic and aesthetic experience that is achieved through a combination of demanding processes and exacting standards over the black cells, frames, back sheets, labels, bus bars and glass, etc.
Aesthetic glass: Trina Solar has has innovatively developed and applied the double layer ARC (antireflection coating) glass technology that delivers a more consistent black effect to solar modules and reduces glass reflection. The LAB color mode has been introduced to measure and manage the aesthetic solar module to precisely control the chromatic values to appear more colorless, transparent and pure, thus greatly enhancing the aesthetic effect.
Uniformity: The Vertex S Aesthetic Module also features strict control over the uniformity of black chromaticity. The black frame and back sheet make for a seamless and scratch-free appearance, thus ensuring high stability and consistency in hue, brightness and uniformity.
In October, Trina Solar, led by the China Photovoltaic Industry Association, developed a group standard in terms of coating chromaticity after deep discussion with third-party experts, leading the industry by establishing the color specifications and uniformity criteria for the aesthetic black solar modules.
3. Aesthetic black solar roof offers an all-round tech-savvy and aesthetic experience
Multiple rows of aesthetic black modules, installed on the same plane, present a uniform and consistent almost-all-black effect, regardless of the roof type and angle of inclination, perfectly blend with the building and the surroundings.
To deliver an all-around black experience, Trina Solar has also adopted an outdoor installation scenario-specific evaluation method to inspect precisely.
With the arrival of the upgraded Vertex S Aesthetic Module in Europe, Australia, Japan and elsewhere it has been used extensively in distributed solar PV projects. Since the module was launched in 2020 it has been installed on countless rooftops worldwide. The product, being highly efficient with a black and aesthetic look, has set a global trend in integrating solar power with a tech-savvy and aesthetic experience. A quick uptake in global markets has, in turn, reinforced the Trina Solar's positioning as the leader in truly aesthetic black modules.
As defined by Trina Solar, an aesthetic black module should, following the single, rigorous principle, be as close to full black with zero color difference as possible, and deliver an all-around tech-savvy and aesthetic experience in various application scenarios. To this end it needs to ensure high uniformity between all cells, between cells and frames and between modules, even under different installation angles. Only by doing so can the solar roofs finally produce a unified visual effect, which guarantees integrity, an essential element in building exterior design, and delivers to customers an almost-all-black aesthetic solar roof in a real sense.
An ingenious masterpiece of exquisite packaging
Trina Solar's aesthetic concepts are not only reflected in its products, but also applied in its exploration of packaging. Its newly upgraded pure black packaging design is consistent with the black appearance of the module. With the industry's first scenario-based packaging solution, the Vertex S Aesthetic Module provides customers with an all-around aesthetic experience that runs through pickup, unpacking and use.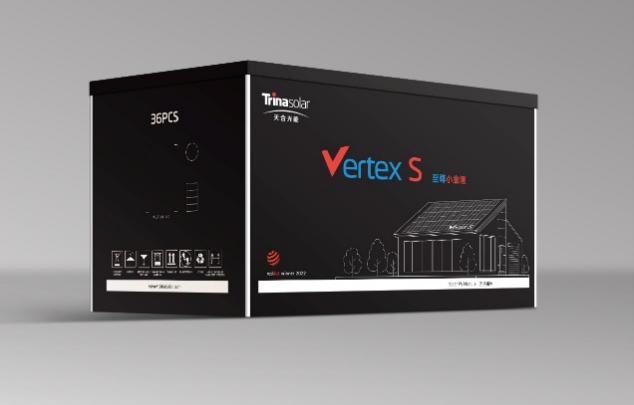 By offering customers more aesthetic experiences as well as meeting their needs for green power, Trina Solar's innovative Vertex S Aesthetic Module marks that solar rooftop products are transforming from green power to a gorgeous blend of eco-friendly technology, green aesthetics and harmonious experience.
Vertex S Aesthetic Module applied on the roof globally