22/07/13
Business of Solar
As a global leading provider of photovoltaic (PV) modules and smart energy solutions, Trina Solar delivers PV products, applications, and services to promote global sustainable development.
Since its establishment in 1997, Trina Solar has been driven by innovation, reliable quality and customer value. With its top-notch research and development of ultra-high power modules, Trina Solar has led the industry into the 600W+ era, with a host of high-power, high-efficiency, high-yield, and highly reliable products, offering new opportunities to further save the system costs of projects and ensure the interests of customers.

Featured Product: Ultra-High Power Module for the Ultimate 600W+ Era
Trina Solar Vertex series modules, with a module conversion efficiency of over 21.4%, boasts of a power output of over 600W. Incorporating 210mm cells, the new Vertex series modules are designed for utility and rooftop installation in large commercial & industrial projects and come in two versions – the bifacial double-glass modules and monofacial backsheet modules.
Technology Specifications
Based on Trina Solar's leading multi-busbar (MBB) technology, Vertex modules incorporate 210mm silicon wafers, non-destructive cutting (NDC) and high-density interconnect technologies, allowing over 600W power output and 21.4% module efficiency. By virtue of low-voltage and higher module string power output, the new Vertex series unlocks huge potential for further reducing balance-of-system costs.
Fraunhofer ISE, the world's leading applied research third-party organization, has conducted research on the LCOE advantage and value of 210mm Vertex modules in all scenarios. It is found that the CAPEX and LCOE of the new generation of 210mm (G12) Vertex modules are lower than those of the 182mm (M10) modules and the traditional 166mm (M6) modules. In the mode of 210mm mono-facial module + fixed tracker, the LCOE of the G12 Vertex 670W modules is 4.5% lower than the M10 585W modules and is 7.4% lower than the M6 455W modules.
In the era of grid parity, the advanced Vertex 210mm series of modules have a prominent edge in BOS and LCOE costs. It sets a new cost-saving standard, ultimately ensuring the project's earnings and maximizing customer value, making PV solar energy more cost-competitive.
210mm silicon wafer brings the highest power output: The Vertex modules employ cells based on 210mm silicon wafers, which is the largest possible wafer size provided by the semiconductor industry and brings the highest power output.
Non-destructive cutting (NDC) technology brings the best cell performance at chip-level: NDC technology is adopted to achieve the best cell bending strength and section appearance, resulting in the best performance for the minimum cell unit.
Multi-busbar (MBB) technology leads to a 0.4%-0.6% increase in module efficiency: MBB, with the capability to increase light absorption, perfectly matches the large-area cell. Technology integration enables the Vertex series modules to achieve higher power and power generation capacity per watt.
High-density interconnection technology optimizes module efficiency: By flattening cell connection areas of welding tape, the cell spacing is reduced to 0.5mm to optimize power output and efficiency, which will leave a certain gap to reduce yield risk, micro-cracks and damage to the modules.

Technology Advancements
12-year product warranty, 30-year power warranty
Up to 30% additional power gain from the rear side in different installation environments
Better temperature coefficient (-0.34%), lower working temperature result in more generated power
Excellent IAM (Incident Angle Modifier) and low light performance, validated by 3rd party certifications
Enhanced frame structure to achieve better reliability
Mechanical performance up to 5400 Pa positive load and 2400 Pa negative load

Targeted / Benefitted Customer Segments
Trina Solar's Vertex series modules are designed for utility and rooftop installation in large commercial & industrial projects.
Over the past year, the 600W+ Vertex modules have proven to be highly reliable and adaptable. Plants equipped with 600W+ modules can be found worldwide, including in the 850 MW super large project in Brazil and the 112MW PV agricultural project in Da Chaidan in Qinghai, northwestern China.
Trina Solar's 2MW commercial project was successfully completed on the roofs of a large-scale factory building in Linyi, Shandong Province. In the first phase, around 40,000m2 roofs were installed with PV modules, with an installed capacity of 2MW. The project uses Trina Solar's 210mm Vertex ultra-high power modules, including 1.5MW of 600W mono-facial modules and 0.5MW of 670W mono-facial modules.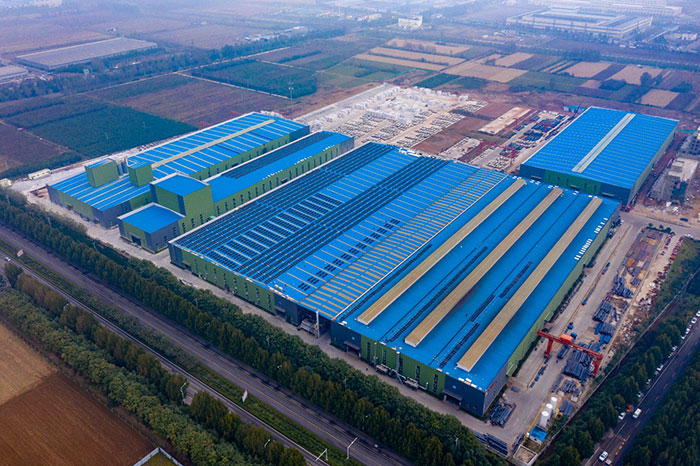 2MW rooftop installation in Linyi, Shandong Province, China

The installation of the modules took only around 20 days from the beginning to the end of last October. The construction period has been greatly shortened compared to the past which indicates the truly convenient installation of ultra-high power modules.
The 210mm Vertex 600W+ modules guarantee power generation for 25 years, saving the Linyi factory's electricity costs and contributing to the target of carbon emission reduction.
This rooftop installation is expected to generate 2.6 million kWh in the first year, reduce 2,160 tons of carbon dioxide emissions, and save about RMB 1.4 million in electricity costs. In the 25-year service life of the PV power station, the total power generation is expected to reach 62.53 million kWh, reducing carbon emissions by approximately 52,000 tons and saving the factory nearly RMB 33.76 million in electricity costs.
In addition, Trina Solar provides a 25-year power warranty and a 12-year product warranty for the Vertex 600W+ ultra-high power mono-facial modules, ensuring the long-term successful operation of the project. The project is expected to be connected to the grid by the year-end.

Conclusion:
So far, more than 50% of industrial and commercial projects globally have selected and applied 600W+ modules. The reason for choosing Trina Solar Vertex 600W+ modules is that the ultra-high power modules are designed to reduce the cost of the distributed power stations and significantly increase their revenue.
The 210mm ultra-high power modules are getting inevitably popular in the era of grid parity when distributed scenarios have been fully upgraded. Products with a higher power range and high energy yield represented by the 210mm Vertex modules will fully guarantee the investment income of distributed projects by virtue of their outstanding advantages.
Want this module for your next installation? Get in touch with Trina Solar today.
Smart Energy Solutions
delivered straight to your inbox