20/08/20
Business of Solar
A successful solar power installation requires more than just PV modules and the associated balance of system (BOS), it also needs effective operations and maintenance (O&M) management. Maintaining good O&M practices is an important, and often overlooked, aspect of ensuring that a PV system operates efficiently. This, in turn, helps ensure maximum power production and return on investment.
Utility-scale O&M contract prices have dropped recently. While the price has gone down, so too have the associated services. A recent Wood Mackenzie study found that many of the O&M contracts signed on the lower end of the cost range, around $3-5 per kW per year, do not include critical services. This includes practices like corrective maintenance work, vegetation management and module washing, which are often missing from these scopes.
When it comes time to perform these vital duties, stakeholders often find that they have to hire additional O&M services from third parties, creating an unanticipated cost. These third-party O&M services typically lead to higher prices than if the services were bundled into the original scope. If unaccounted for at the project's inception, this increases risks and can greatly alter initial CAPEX calculations and ROI projections.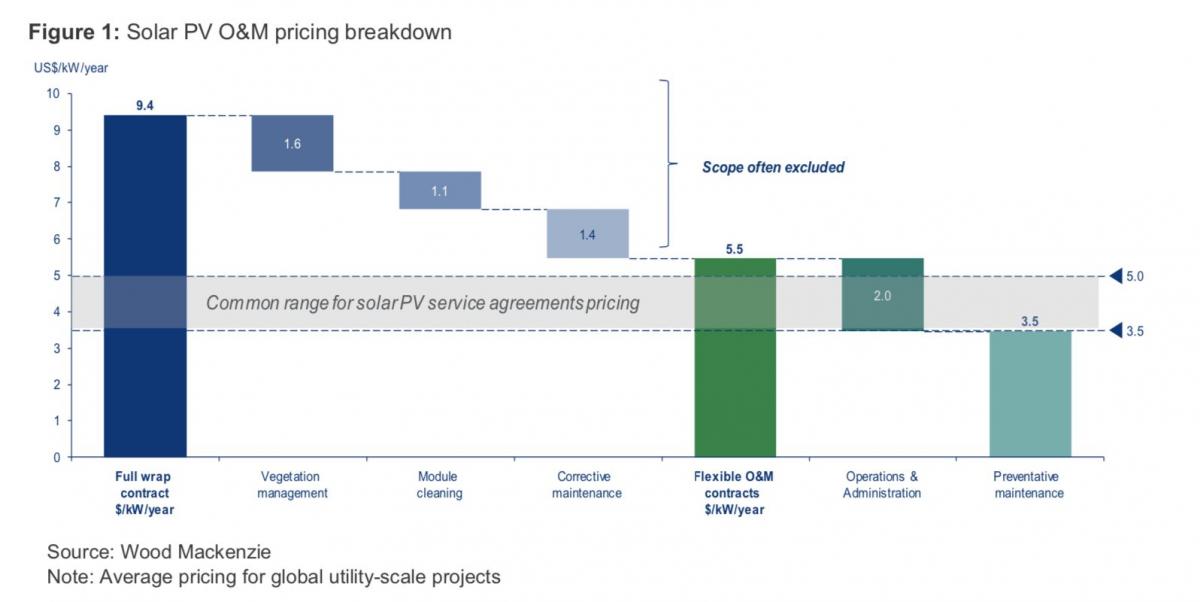 Additional data from Origis Services suggests a similar conclusion to Wood Mackenzie's study, specifically for corrective maintenance. An analysis of the Origis portfolio found that the true cost of O&M can be up to 28 percent higher than planned or budgeted if corrective maintenance is excluded from the original scope.
When a situation like this arises, inaction is not an option. Failure to address O&M issues can often severely inhibit the PV system's performance, leading to substantially subpar energy gains. Therefore, utility-scale project developers and EPCs should be sure to carefully consider how an O&M solution's scope will impact the lifespan of the PV system.
TrinaPro: A Smart Solar Solution with Unique O&M
Having to deal with unexpected costs, whether for O&M or other services, can potentially put a big dent in a solar project's ROI.
The TrinaPro Solution, the one-stop solar solution from Trina Solar, assists project stakeholders from the beginning to map out the entire lifespan of the PV system. TrinaPro's technicians include on-going O&M management in the original project specs so that all parties understand the O&M events and how they impact the system's performance. Armed with this knowledge, project stakeholders can gain a better long-term view of energy output and ROI estimates.
System uptime is crucial for power production. To that end, TrinaPro's intelligent O&M solution extends beyond the traditional offerings with a unique O&M platform that:
integrates remote commissioning
includes equipment control functions
features in-depth data collection and analysis to provide O&M teams with accurate, reliable fault locations, and
leverages edge computing and a smart cloud-based O&M system to analyze data and optimize the system's operation model
Combined, these features greatly improve PV project efficiency, ensuring seamless and smooth power generation. By integrating a smart O&M system with TrinaPro's improved power generation and lowered system LCOE, solar project developers and EPCs can achieve higher investment gains.
Want to learn more about the smart O&M offerings included in the TrinaPro Solution? Click here to reach out to a TrinaSolar representative today.
Smart Energy Solutions
delivered straight to your inbox