FixOrigin is a ground fixed tilt system that provides a cost-effective solution for sites with high diffused and indirect radiation. With FixOrigin, the solar modules will be fixed at a year-round optimum tilt to maximize annual power generated by the system.
There are two structure options with FixOrigin.
Monopost, where the modules are supported by one row of post, and
Bipost, where two rows of posts support the structure.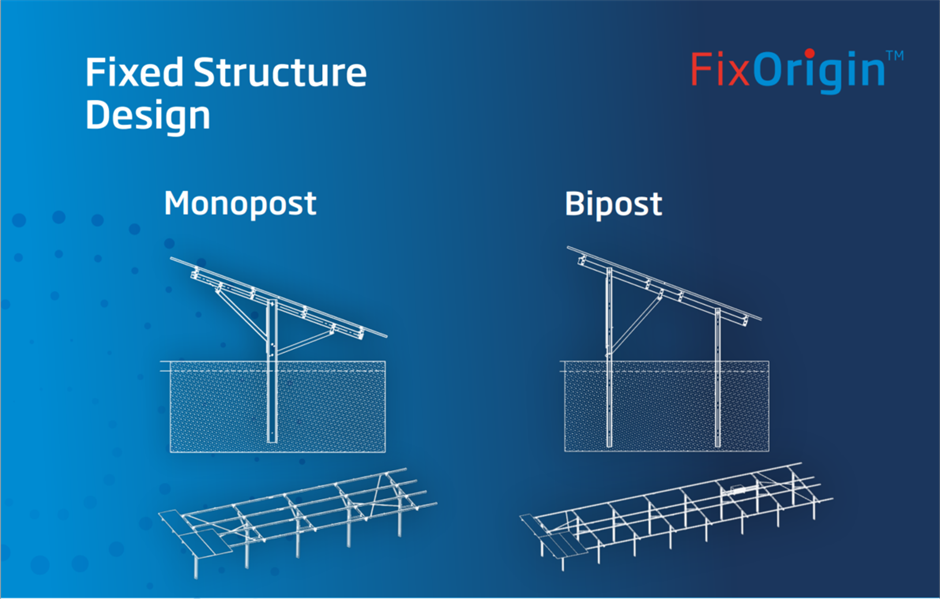 FixOrigin's Monopost (left) and Bipost (right) structures
The choice of structure depends on the terrain characteristics and space availability at the site, but both designs can be used across multiple applications.
They are also compatible with a variety of different module configurations. The Bipost structure is compatible with 2-in-portrait (2P), 3-in-portrait (3P), 4-in-landscape (4L) and 6-in-landscape (6L) configurations, while the Monopost structure is compatible with 2P and 4L configurations. When using bifacial modules, it is recommended to use landscape configuration regardless of the structure design to minimize the shading on the rear side of the module.
Let's explore some of the other features of the FixOrigin mounting system below!
Compatible with Ultra-High Power Modules Up to 670W+
Like other tracker structures in TrinaTracker's portfolio, FixOrigin is designed to support large-format modules up to 670W+, which means that you can enjoy the benefits of ultra-high power solar modules without compromising the structure's stability.
Tailor-Made Foundations for Your Site
FixOrigin is compatible with different foundation solutions, which will be customized according to the site's terrain characteristics. These foundation solutions can be used in all types of ground conditions, including soft, hard, rocky, and low bearing capacity grounds.
Stability Tested and Ratified by Third-Party Authorities
The static wind effects on FixOrigin have been investigated with a wind tunnel test by a leading wind engineering consultancy firm. The results validated FixOrigin's structural stability in wind speeds of up to 100 km/h for most sites.
Easy Assembly, Operation and Maintenance
FixOrigin's design was designed for quick and easy installation to minimize installation costs and maintenance. Its height and installation can also be easily adjusted during assembly, and does not need any cutting, drilling, or welding to install.
Guaranteed Quality
TrinaTracker offers its clients products of optimal quality with the most advanced technology. As part of TrinaTracker's portfolio, FixOrigin complies with TrinaTracker's strict internal quality standards. It also comes with a 10-year structure warranty.
The materials used for FixOrigin are of the highest quality and are specifically chosen to ensure high resistance to both above and underground corrosion.
Unmatched Bankability
All TrinaTracker warranties are backed by parent company Trina Solar, one of the oldest solar companies with one of the largest annual solar module production capacities. As a top solar brand, Trina Solar also regularly tops the Bloomberg solar manufacturer ratings, and is the only module manufacturer to be rated as 100% bankable for 7 consecutive years.
Want to learn more? Get in touch with TrinaTracker today.
Smart Energy Solutions
delivered straight to your inbox