TrinaTracker Performs Excellently at the Huelva 2021 Project
2021.10.29
For the Huelva 2021 solar project, TrinaTracker SP240 (predecessor of Agile 1P) has proven to run at high efficiency since its commissioning in summer 2021. Monitoring data shows that the tracking system has a high availability rate of over 99.5%. As the first tracker-equipped solar project in Andalusia, Spain, the project has been running smoothly and efficiently.
This 50 MW project utilizes two specs of SP240 trackers, namely 1Px56 and 1Px28, bi-row to fit the topography. Its annual capacity is 100 GWh, equivalent of the consumption of 28,000 households in Spain. As a result, it reduces 90,000 tons of CO2 per annum. Huelva 2021 is the first of 12 plants in the agreement concluded last December between Bruc Energy and Alter Enersun for the development and management of 550 MW photovoltaic energy. This successful first project helps guide the system design for follow-up projects.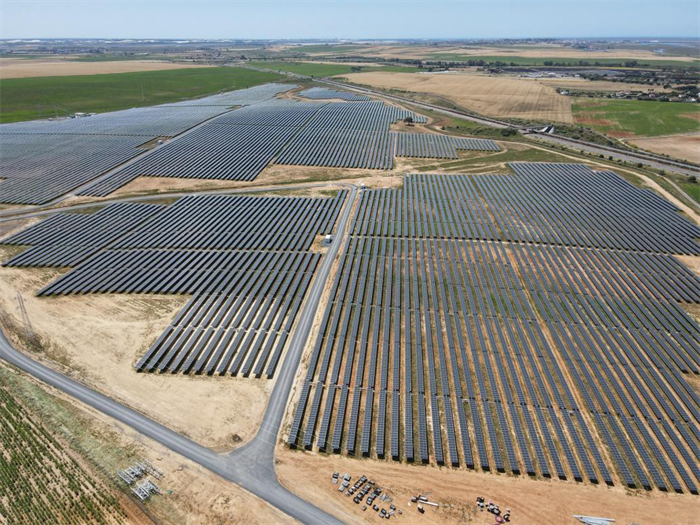 TrinaTracker at Huelva 2021 Solar Power Plant
In addition to product supply, TrinaTracker made a great effort to offer professional service during the delivery process, sending a technical team on site for installation guidance and tracker commissioning. This ensured timely commissioning and successful operation of the systems.
"We're quite impressed by the professional service offered by TrinaTracker all the way from delivery to on-site installation, and the reliability of product itself. We look forward to working with TrinaTracker again for the upcoming projects," explained Mr. José Luis Morlanes Galindo, CEO of Alter Enersun that owns the Huelva project.
Jason Duan, General Manager of TrinaTracker, said: "We're pleased to receive the praise and encouragement from Enersun. As a key component of TrinaSolar's integrated solution, we are glad to be part of this significant project. TrinaTracker will continuously develop its business and pursue technology innovations that meet clients' needs."
At present, TrinaTracker has added a new upgrade member, Agile 1P series, to its product lines, which fits the large-format modules. Integrated with the proprietary dual-slewing system and the intelligent SuperTrack algorithm, Agile 1P has a more reliable tracker system to further improve power generation capacity of systems. The plan is to use it globally for new projects with 182/210 wafer size modules.
About TrinaTracker and TrinaSolar
TrinaTracker, a business unit of Trina Solar Ltd. (SHA:688599), is a global solar tracker technology leader focused on providing "state-of-the-art" design solutions tailor-made to any terrain characteristics and weather conditions. Founded in 1997, Trina Solar is the world leading PV and smart energy total solution provider. The company engages in PV products R&D, manufacture and sales; PV projects development, EPC, O&M; smart micro-grid and multi-energy complementary systems development and sales, as well as energy cloud-platform operation. In 2018, Trina Solar launched Energy IoT brand, established the Trina Energy IoT Industrial Development Alliance together with leading enterprises and research institutes in China and around the world, and founded the New Energy IoT Industrial Innovation Center. With these actions, Trina Solar is committed to working with its partners to build the energy IoT ecosystem and develop an innovation platform to explore New Energy IoT, as it strives to be a leader in global intelligent energy. For more information, please visit www.trinasolar.com.