McCain Foods Australia, a multi-national leader in the frozen food industry, has launched one of the largest behind-the-meter renewable projects in Australia. The 7 MW solar farm at McCain's facilities in Ballarat, Victoria, comprises a 17,000 panel ground mount and carpark solar array. It uses Trina Solar's ultra-high power Vertex bifacial modules, which incorporate 210mm diameter solar cells, and the high efficiency TrinaTracker Vanguard two-in-portrait (2P) trackers.
"McCain were really interested in developing a solar farm because it makes a massive commitment to our CO2 reduction activities that we're undertaking globally and also makes great business sense," said Scott White, Contract Engineering Project Manager for McCain Foods Australia & New Zealand. "We can produce energy cheaper out of this farm than what we can buy from the grid."
McCain and Smart Commercial Solar, the installer of the project, chose Trina Solar to provide both the modules and trackers for this project because of the reduced turnkey costs, decreased key construction civil and topography risks, and the deep and close technical support provided to customers at every step of the project lifecycle.
Trina Solar is the only solar module manufacturer in the industry that provides a truly compatible module and tracker solution. For developers, this combined package is highly appealing as it streamlines the entire contracting process with a single point of accountability and comes with the assurance of partnering with a large bankable entity. The McCain project shows that this combined solution has strong appeal not only for utility-scale projects but commercial and industrial-scale projects as well.
Higher Yield, Higher Savings
Trackers have been proven to unlock the lowest cost of energy and can create a "value stacking" effect for large-scale solar in Australia's relatively mature solar market. "Solar projects can increase yields by up to 25% by using trackers", explained Andrew Gilhooly, Head of TrinaTracker and Utility Solution Sales for Trina Solar in Asia Pacific. "You get an even bigger bifacial boost from the modules on the tracker and that tends to restore the tracking-and-bifacial advantage [over fixed monofacial] to at least 15% or more."
The yield gain is increased even further with TrinaTracker, a leading tracker manufacturer and business unit of Trina Solar. TrinaTracker currently offers two types of systems in Australia: The one-in-portrait (1P) Agile dual-row tracker, and the Vanguard 2P single-row tracker.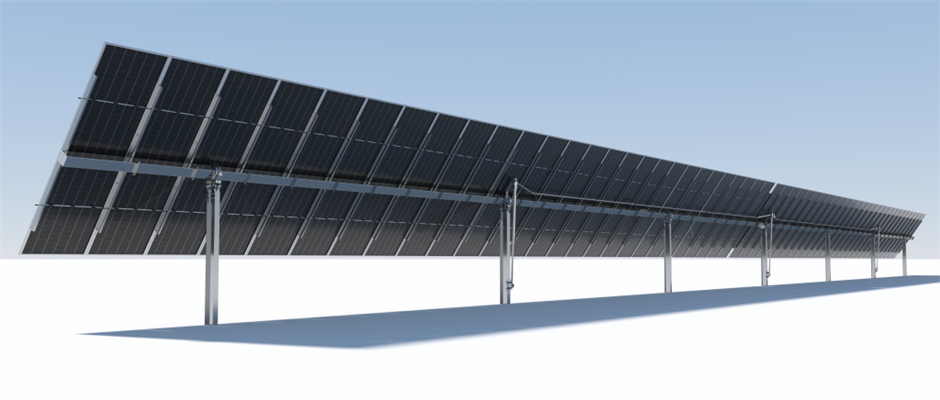 TrinaTracker's Vanguard two-in-portrait, single-row trackers
The trackers are specifically engineered to reduce system costs and levelized cost of energy (LCOE) to deliver more value to customers. "For example, we have optimized the trackers' performance in terms of the longer string length possible with large wafer modules. We can fully accommodate these longer strings on longer and wider tracker structures with confidence," explained Gilhooly.
"This means we can have up to 40 modules in a string, unlocking savings not only on the tracker cost on motors and piles (as low as 120 piles per MW DC) but also saving on downstream electrical balance of system costs, fewer string cables, combiner boxes, trenches and so forth."
The cost savings are increased with the ultra-high power Vertex modules. The Vertex series is unique because they incorporate 210mm diameter solar cells, which are now the new global industry standard; earlier generation solar modules use smaller solar cells, such as 182mm or 166mm.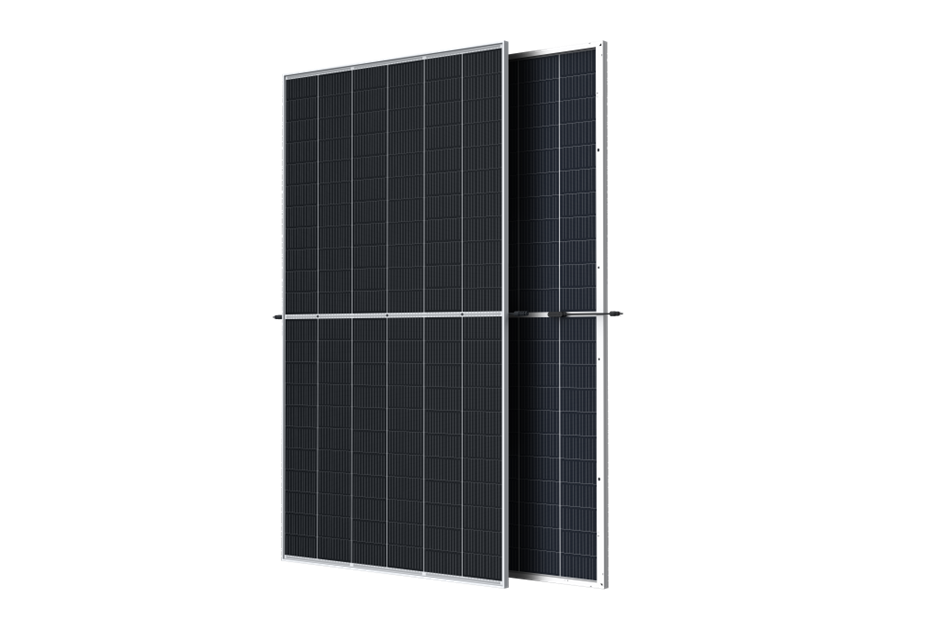 Vertex 670W bifacial module, which incorporates 210mm diameter solar cells
By using the larger 210mm solar cells, each panel requires a fewer number of cells, whilst still delivering more power. Fewer number of cells means each panel has a lower voltage, leading to additional balance of system (BOS) cost savings. For example, there can be more (up to 40) modules per string.
Using a single provider like Trina Solar for both modules and trackers can also significantly reduce the transport and installation costs, especially in markets with high cost of labor like Australia. Combined, there are significant savings for developers who choose to use the ultra-high power 210 Vertex modules and TrinaTracker combination for their solar projects.
Designed for High Reliability
Australia is Trina Solar's second-largest market for trackers in the Asia Pacific region. Approximately 85% of the new utility-scale projects coming online in Australia use trackers, while the other 15% use fixed-tilt approaches. Consequently, project sites are becoming increasingly challenging.
"Sites close to grid connections and high energy demand are largely built-out, as is most flat land that is easy to build upon. The sites that are left are those that are challenging, whether it be steep, undulating terrain, very rocky ground or clay soils that swell in the wet and shrink in the heat," said Gilhooly, "We're also seeing tracking being considered on sites with really quite variable terrain and solar farms being deployed or considered on sites prone to flood inundation."
Tracker manufacturers also have to take into account the higher wind loads added to the trackers due to the mounting of ultra-high-power modules, which are in strong demand by the industry. In this aspect, Trina Solar has an advantage over our tracker competitors as a pioneer of the new, larger format bifacial modules. Having early access to the new module technology gave us a head-start when it came to wind-tunnel verification and performing the necessary due diligence to integrate smart trackers with the new, larger solar panels in a cost-optimized manner.
Compatible with ultra-high power modules of up to 670W in power output, both TrinaTracker Agile 1P and Vanguard 2P take into account the effects of dimensional increase of large-format modules and the complex aeroelastic effects on solar systems on tracker reliability. The following innovative technologies were implemented to ensure maximum reliability even in challenging sites:
● Multidrive technology to achieve higher system synchronization, lower failure rate, reduce gust wind impacts, and reduce torsional load,
● Patented spherical bearing to automatically rectify deviations during installation and alleviate harm caused by uneven foundation settlement during the life cycle of the tracker, and
● Enhanced SCADA system to effectively reduce tracker downtime, diagnose problems in real-time, and troubleshoot irregular tracker operations.
As one of the few tracker suppliers to have deployed at a large scale in cyclonic regions of Australia, Trina Solar deeply understands the engineering complexities of integrating these large modules onto our trackers in both a structurally and economically adequate fashion. Our experts recommend Vanguard 2P for most of Australia, because of the value it can provide by using fewer foundation points per megawatt, while Agile is recommended for regions with high wind speeds because they are closer to the ground, and can stand up better at high wind speeds.
Learn more about TrinaTracker here: https://www.trinasolar.com/au/product/TrinaTracker
Smart Energy Solutions
delivered straight to your inbox