22/05/27
Business of Solar
Current trends in the photovoltaics industry as well as system value and bankability of the Vertex 600W+ modules have been at the center of discussions in a recent webinar. The event, titled "Next Generation PV: Utilizing Ultra-High Power Modules, a Lower LCOE and Higher Value", was co-organized by the internationally renowned analysis institution Wood Mackenzie and the leading global PV module manufacturer Trina Solar. It was held on 19 May 2022.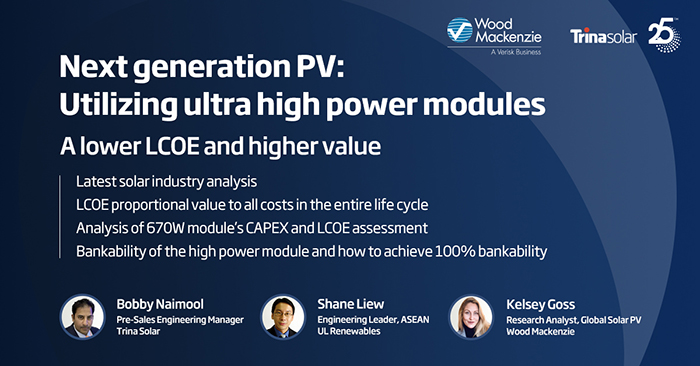 Wood Mackenzie: The industry 'all-in' for high-power products
In a global solar PV market overview, Kelsey Goss, Research Analyst at Wood Mackenzie, said the industry is "all-in" for high-power products. Wood Mackenzie forecasts that high-power modules will be the mainstream product this year and beyond, Goss said.
According to the analysis, nearly 70% of all new cell capacity expansion plans are dedicated to large-format sizes; most manufacturers have committed to transitioning their production capacity to large-format modules, mainly G12 and M10 sizes, and these will dominate manufacturing capacity by the end of this year. Retirement of older generation capacity will occur simultaneously.
In addition, tier 1 manufacturers have endeavored to standardize module sizes in response to downstream pressure to simplify system design and LCOE assessments. Last year, promoted by Trina Solar, the standardization of 210mm silicon wafer modules became a reality, greatly reducing BOS costs and LCOE, and delivering the convenience and maximum value of ultra-high power modules.
Wood Mackenzie continues to predict that TOPCon will be the favored technology in the near-term.
UL and B&V LCOE study: Trina Solar Vertex 600W+ modules offer lower LCOE and higher value
Shane Liew, Engineering Leader, APAC Solar, at UL (Underwriters Laboratories) Renewables, presented UL's analysis of LCOE in Vertex 600W+ modules performed late last year. In a plant in the United Arab Emirates, the 210-660W module reduced CAPEX by 1.70% and LCOE by 1.19% compared with a plant with 182-540W modules. Similarly, in a plant in Australia, the 210-660W module reduced CAPEX by 1.50% and LCOE by 1.32%.
Bobby Naimool, pre-sales engineering manager with Trina Solar North America, talked of the LCOE benefits of 670W modules in a study conducted by Black & Veatch, a global solar independent services provider. The study found that compared with 166-450W modules, 210-660W modules reduce both CAPEX and LCOE by more than 9% and also reduce CAPEX by up to 4.58% and LCOE by up to 3.94% compared with the 182-535W modules.
Outstanding products performance delivers 100% bankability
At the webinar, experts analyzed the reasons behind the excellent system value of Vertex 600W+. One reason is that mechanical reliability has been fully verified after passing a series of rigorous tests, including non-uniform snow-load test, extreme low-temperature mechanical load test, hail test, extreme DML test and extreme wind tunnel test. Second, the inverters and trackers are fully adaptive to all 210 Vertex modules, producing reliable, efficient and smart collaboration in the industry chain.
Thus, Trina Solar scored 100% in the BNEF Bankability Survey, ranked as the top bankable module supplier for six consecutive years, and was recently ranked Top Performer this year by PV Evolution Labs (PVEL) once again, for the eighth consecutive year.
In the global pursuit to eliminate carbon emissions, products such as the 210 Vertex 600W+ modules with higher system value and lower LCOE are the inevitable direction of the PV market.
Trina Solar regularly collaborates with industry partners to discuss more about the latest updates in the PV market. Join our upcoming webinars here to participate in our next discussion.
Smart Energy Solutions
delivered straight to your inbox