Trina Solar 2017 global modules shipment over 9 GW
2018.01.29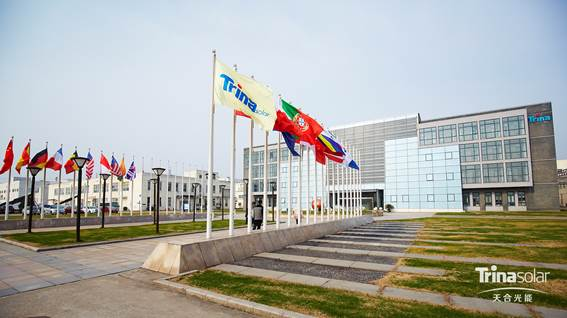 Trina Solar, a global leading total solutions provider for solar energy, announced that the global modules shipment of 2017 was 9.0 to 9.2 GW. According to the "Top-10 Module Suppliers in 2017" ranking results published by PV-Tech, Trina Solar's shipment of last year continued to rank No.2, and it keeps world's largest modules supplier position as the accumulated shipment exceeded 32 GW.
The shipment of the first three quarters was 1.966 GW, 2.481 GW and 2.092 GW, respectively, and the shipment of the fourth quarter continued to ascend, allowing the full-year shipment to reach more than 9 GW.
Trina Solar's PV products and services have been distributed to more than 100 countries and regions around the world. In respond to China's national Belt and Road Initiative, the Company has also expanded businesses in the Belt and Road countries. Trina Solar is now the largest PV manufacturer in Vietnam as it launched an 1 GW solar PV cells manufacturing project in Vietnam on January 6th, 2017. In India, Trina Solar delivered more than 3 GW of modules, contributing to more than 25% of market share.
Trina's solar power projects business segment designs, constructs, operates and sells solar power projects in China, the U.K., the U.S. and other European and Asian countries. Trina engages in the full life cycle of solar projects development including project selection, design, financing, permitting, engineering, procurement, construction, installation, monitoring, operation and maintenance. Up to now, the Company has connected nearly 2 GW of solar projects to grids around the world.
In August, 2017, Trina Solar launched the first residential PV brand – TrinaHome, which quickly takes leading market position. The Company will be implementing the "One-Million Rooftop Plan" for the course of the next five years to provide Trina residential PV system installation service for more than one million households.
By the end of 2017, Trina Solar commercial projects achieved 500% growth with businesses covering 20 provinces and cities nationwide. In the future three years, the Company aims at developing one thousand commercial partners who can make over 10 million in sales.
In 2017, Trina Solar began to celebrate the 20th anniversary and achieved healthy, stable and sustainable development; it also unfolded the 3.0 era where it strives to become a leader of global Energy Internet of Things.